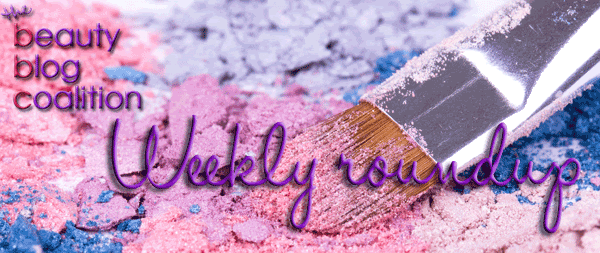 Is your hair and skin dry and damaged? MyStyleBell explains the difference between Argan Oil and Grapeseed Oil and explains which one is better for your hair.
Are you interested in trying a monthly sample service for beauty products? Emily has tried a few and was happy with the first impression of Sample Society by beautybar.com. See what came in the June Sample Society box!
Everything has a scent, even cold! Designer Serge Lutens celebrates it in his avant-garde, new fragrance, l'eau Froide. Alison Blackman of the Advice Sisters checks out the fragrance and gives a report. Cool yourself all Summer long!
Miss L from Beauty by Miss L tried L´Oreal Youth Code Luminize Super Serum and now shares her thoughts about it.
Confessions of a Sarcastic Mom showcases polishes inspired by the movie Snow White and the Huntsman.
Glitter.Gloss.Garbage has swatches of MAC Casual Colour.
Brooke from BlushingNoir shows you what is in her first (and second!) Little Black Bag with this open box video!
BeautyJudy wear-tests, reviews and shares swatches of Dermelect's new ME Anti-Aging Color Nail Lacquers. Do theydeliver on the company's promise of chip-resistance and nail strengthening? Find out!
BeautyTidbits is giving away a bunch of new NIVEA skincare goodies and a trendy beach tote to get you ready for the beach season!
Phyrra brings you the best in bright hair from Premiere Beauty Orlando.
The Pink Sith yammers on about mermaids and cable TV, but she shows you some awesome pictures of Models Own Nail Polish in Indian Ocean while she does it.
Take the headache out of nail art and try this simple trick from Blushing Basics.
Are you looking for a great peel for summer-ready glowing skin? Lola from Lola's Secret Beauty Blog is a huge fan of Suki Renewal Bio-Surfacing Facial Peel because it's natural, vegan, and highly effective!
There are some big-name must-haves out there, but when you shop locally a whole new world can open up for a beauty enthusiast! Follow Bailey around a farmers market and see what local beauty she finds.
Beauty Info Zone wants to teach you about double cleansing with Dermalogica PreCleanse. They also want one US reader to win the product to see how great it is for themselves.
Beauty and Fashion Tech looks at some truly odd beauty items with The 8 Strangest Beauty Products.
Girl Gloss has a MAC Casual Colour Collection Swatch of the Shade Keep it Casual.
How do you remove your makeup? TheFabZilla tried a gamut of ways but got hooked with Micellar water. Check out her recent faves.
It is Giveaway time over at Pammy Blogs Beauty! So, head on over to enter to win a Total Beauty Collection sample box!
Polarbelle spends a little time getting her nautical on with the Mac Hey, Sailor eyeshadows.
Nails and Noms shows us some pretties from the new indie kid on the block, Cirque Nail Polish with their Dark Horse Collection!
The Makeup Divas shares swatches and reviews MAC Ditto Shade & Smoke Shadow Liners.
Have you been searching for a Polish that wears like a Gel? Midnight Manicures presents Dazzle Dry, it's vegan, big 5-Free and dries in 5 minutes!
Want a tan without the wrinkles? Lipgloss Break reviews Dr. Dennis Gross's New Glow Pad sunless tanning towels.
Playing Russian Roulette with your Hair? Cosmetically Challenged gives you three tips to help keep you and your hair safe.
Stephanie Louise- All Things Beautiful is traveling across the country & shows you the L'Occitane Verbena Sachet & Fragrance/Gloss Duo that are traveling must haves!
Gia of Bottles and Bottles of Polish wore 3 purple polishes at the same time– check out how amazing they looked together
Where the party at? Lynn shows you the After Party on her nails over at Oh So Lacquered.
Always on the search for great makeup, Christina of Curls N Pearls shares a review of the RevitaLash Spotlight Highlighting Pencil. Check out what she thinks!
Nails Beautiqued has some summertime fun mouthwatering hues for your nails? Checkout Jessica Gelato Maio Collection.
Always looking for the best in skin care, Spontaneous Chick posted 4 avocado face masks that work.
Hello Dollface copies Julianne Hough's natural makeup for a pretty daytime look. Will you see Rock of Ages this weekend?
Geniabeme has a bright FOTD using Kiss My Sass Cosmetics!
Do you believe in happy endings? Mina of Fabulous Awesomeness swatches the Fairytale Collection by Cult Nails!
Katia-Blondycandy went to Beauty Trend Show at Nordstrom in South Coast Plaza and was lucky to get two great makeovers from YSL and Guerlain. Watch her funny photos and read advices from best makeup artists.
Want a colorful, dramatic, and edgy look? Nancy from The Dark Side of Beauty shows us how to create it with the Sugarpill Burning Heart palette!
Perilously Pale shows us how to achieve the on trend anti-smokey eye look with the new Maybelline New York Luminous Lights Quads.
Beauty from Liz shows beauty products that she has purchased in May. Maybe it is interesting to see what you can buy when you live in Estonia?