Josie Maran Organic Argan Oil Moisturizer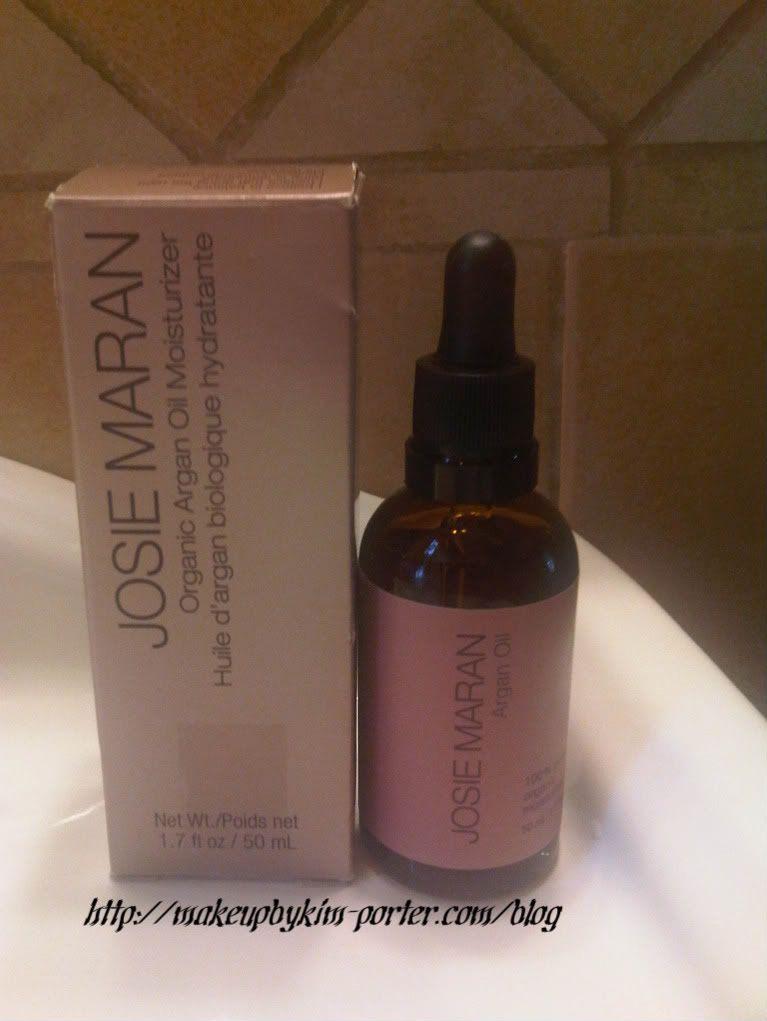 What it is:
A lightweight oil that can be used as a daily moisturizer and skin treatment.
What it does:
Josie Maran Argan Oil is a legendary oil that's rich in vitamin E and essential fatty acids, and grown organically in Morocco. Argan oil is known to have many treatment benefits, including hydrating and nourishing skin, as well as toning and firming. It's gentle enough to use on all skin types and is believed to help with skin conditions including acne.
What it is formulated WITHOUT:
– Parabens
– Sulfates
– Synthetic Fragrance
– Synthetic Dye
– Petro-Chemicals
– Phthalates
What else you need to know:
The oil is housed in a recyclable glass bottle, and purchased from women's cooperatives in Morocco to support their social and economic welfare. These cooperatives work within a UNESCO biosphere reserve that ensures the protection and reforestation of Argan trees."
How to use:
Apply this lightweight Moroccan oil as a daily moisturizer, nighttime treatment, and to heal and condition everything from cuticles to split ends.
My thoughts:
I've tried using the oil on my face, hands and hair.  It didn't work out too well when used on my face; however, when applied to my hands it worked wonders.  I also thought it worked well in my hair.
Face
I tried using the oil as a daily moisturizer, as suggested.   I already have oily skin, especially in my t-zone, and after applying the oil it (one – two drops) made the area extremely "slick" and oily after a while.  My skin did feel softer and moisturized, but, the greasy feel it eft after a while was a turn-off; therefore, I stopped using it for that purpose.
Hands
Since having the baby, I am washing my hands more often than I used to, and I used to wash my hands often; therefore, my skin and nails are suffering, and are dry. Since this is a moisturizing oil, and one of the uses is for your cuticles, I figured I cannot only use the oil when I do my at-home manicures, I can also use it alone on my hands and cuticles to soften and moisturize them, as well as apply some to some hand lotion for extra moisturization.  The oil absorbed quickly into my hands, leaving them soft and not oily.   My nails and cuticles are no longer dry, and look healthier.
Hair
The final way I've used this argan oil was in my hair.  The only other oil I've used that is similar is Moroccan Hair Oil.  Compared to Moroccan Hair Oil, the Josie Maran Argan Oil is much lighter; therefore, it doesn't weigh the hair down, which some people have experienced with Moroccan.  Josie Maran's oil is unscented, which is good since it will not interfere with the scents of other hair products you might be using.  It's also good for those individuals who are sensitive to smells.  I liked that when used in my hair, the oil left it shiny and healthy looking, as well as left it feeling silky (after styling).
Would I recommend?
Yes, I would recommend this product.  Although it's a little pricey ($48/1.7 oz) the fact that it has multiple uses, and a little goes a long way.  Both aspects are positives when spending a good amount of money on any product.  Even though it didn't work well for my face, it did for my sister whose skin glowed after using it.  Needless to say, what doesn't work for me may definitely work for someone else.
Follow @Josie_Maran on

Twitter
Have you tried this product or anything similar?
What were the results?
Disclaimer: I attended an exclusive event where these products were provided.  I was not paid or compensated in anyway to do this post.  This is my honest review/opinion.